Choosing Carpets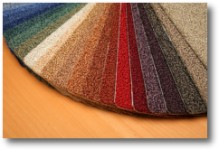 It can be disconcerting to be in one of those impersonal carpet superstores feeling completely overwhelmed by the choice of types and styles of carpets available.  Knowing that almost nothing has as much impact on the atmosphere of our home and workplace as a well chosen carpet but unable to clearly understand what we need whilst away from the rooms concerned.
Get it right and our choice of carpet opens the door to any interior design that we can create, carpets can bring continuity to a setting by combining colour and feel which helps to create a formal or casual environment.
We bring sample selections, room measuring and planning to you free of charge.